Mueller Found Evidence of Collusion
---
We've been waiting for two years to hear the answer to the question of whether or not Special Counsel Robert Mueller found that the Trump campaign colluded with Russia. The answer is in: He did.
The spin from Attorney General Barr and the president that there was no evidence of collusion is simply not true. In 173 pages on Russian interference, Mueller identified constant contact and interaction between the Russian campaign to elect Donald Trump and the Trump campaign. Mueller found clear evidence of collusion, as the examples below demonstrate.
Mueller decided not to prosecute for criminal conspiracy based on a very narrow prosecutorial standard that he clearly laid out in the report. However, it is abundantly clear that the Trump campaign colluded with Russia to interfere in the 2016 election.
Here are six clear examples of collusion from the Mueller report:
Trump knew about Russia's interference and asked Manafort to keep him "updated" on WikiLeaks. Mueller outlines that then-candidate Trump was part of the effort to coordinate with Russian intelligence, informing one of his top campaign officials about upcoming information that was about to be released:

Trump's campaign chairman discussed the campaign's strategy for winning Democratic votes in midwestern states and continuously shared polling data with a Russian intelligence agent. Mueller found (p. 6-7) that Paul Manafort met with his longtime associate, Konstantin Kilimnik, who the FBI believes is a Russian intelligence operative to discuss the campaign's strategy for winning Democratic votes in the Midwest. He also continuously shared internal polling data with Kilimnik: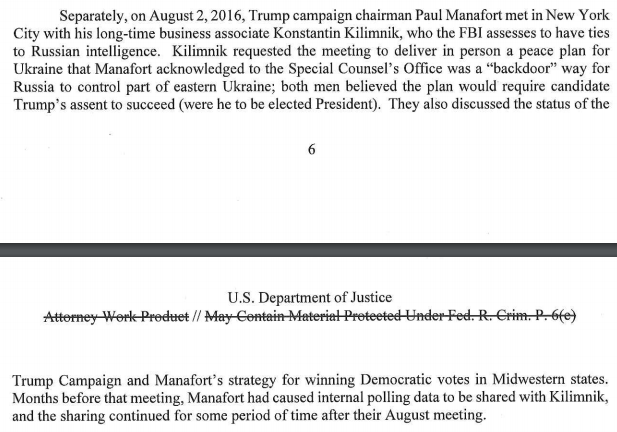 The Trump Campaign developed a whole campaign plan based on their knowledge that more WikiLeaks releases were coming. Mueller found that the coordination with Russia was eagerly accepted and a central component of the campaign's overall strategy:

The Trump campaign knew it was coordinating with a Russian "spy." Robert Mueller explains (p. 134 Vol I) that Rick Gates, who served as the Deputy Chairman of the Trump Campaign, believed that Konstantin Kalimnik was a "spy," but the campaign continued to work with him.

Russian intelligence gave Roger Stone the Democrats' turnout model for the "entire presidential campaign." Guccifer 2.0, which was known to be a Russian front at the time, hacked and stole the turnout model from the DCCC and provided the "turnout model for the democrats entire presidential campaign" to Roger Stone, who responded that it was "pretty standard."
Mueller (p. 44), outlined how Stone had a back and forth with Guccifer 2.0, the Russian military cyber unit, including about material that was not contained in the Wikileaks dump. This includes exchanging, reviewing, and analyzing "the turnout model for the democrats entire presidential campaign":

Trump directed his campaign to get Clinton emails in an effort that included outreach to Russia. Mike Flynn led an effort in the campaign to get the emails, which included Peter Smith getting into contact with who he believed to be Russian hackers.


Mueller corroborates other clear examples of collusion we already knew:
The June 9 meeting: Donald Trump Jr. received an email from an emissary for a Russian oligarch explicitly offering dirt on Hillary Clinton "as part of Russia and its government's support for Mr. Trump." Trump Jr. not only eagerly took the meeting but brought in the campaign's chairman and Jared Kushner, and even offered initial guidance for when to release the "dirt."
George Papadopoulos and the hacked emails: George Papadopoulos, the Trump campaign foreign policy adviser, lied about meetings with a Kremlin-linked professor who told him in advance that Russia had stolen and planned to publish the Clinton campaign's emails.
A suspected Russian agent was on the campaign: Carter Page, another campaign foreign policy adviser whom U.S. intelligence repeatedly concluded may be a Russian agent, traveled to Moscow during the campaign—with explicit permission from campaign leadership—to meet with high-ranking members of the Russian government.
Mueller's team identified sustained efforts by the president and his campaign to not just capitalize on Russia's attack on American democracy but to actively further it, including by coordinating with WikiLeaks to weaponize stolen emails and a suspected Russian spy to share polling data with powerful oligarchs.
That's collusion.