Trump's Conspiracy Theories Always Lead to Russia
---
When President Donald Trump first released the transcript of his July 25 phone call with Ukrainian President Volodymyr Zelensky, many were confused about Trump's apparent belief that Ukraine had the Democratic National Committee's (DNC) "servers" as well as his references to CrowdStrike, the California-based cybersecurity firm that concluded the attack on the DNC came from Russia. From the readout of the call: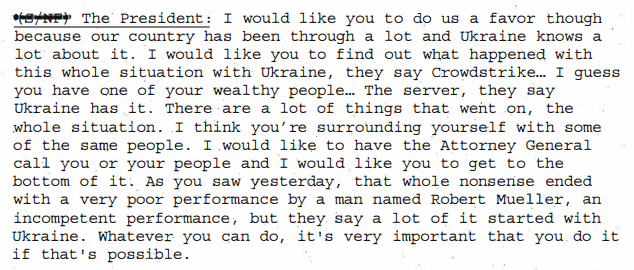 Where did these conspiracy theories come from? According to documents released over the weekend, exactly where you'd expect: Russia.
The "Ukraine did it" conspiracy theory came from a suspected Russian agent within days of WikiLeaks' first email dump.
This pattern of disinformation is consistent with how the Kremlin operates after high-profile intelligence operations.
When its intelligence operations are exposed, Russia's playbook relies on lying and obfuscating with baseless information overload, often blaming others for the Kremlin's own actions.
For example, after Russian agents attempted to assassinate Russian expatriate Sergei Skripal in the United Kingdom, the Kremlin threw out at least 15 different conspiracy theories, many of them contradictory, and repeatedly accused the British government of the attack.
Russia also repeatedly blamed Ukraine for the downing of Malaysia Airlines Flight 17, using online bots and trolls to claim Kyiv was responsible for an attack that all available evidence suggests came from Russia-backed separatists.
It's no surprise that Russia did the same when its attacks on the 2016 U.S. presidential election were revealed, claiming the evidence actually showed a Ukrainian interference effort running in the exact opposite direction.
Trump's own White House officials say he actively sought guidance from Russia on Ukraine.
According to The Washington Post, Trump turned against Zelensky in part due to conversations with Vladimir Putin—who mocked Zelensky and called Ukraine "just a den of corruption"—and Putin's close ally, Hungarian Prime Minister Victor Orbán.
One White House official told the Post that they actively tried to stop Trump from meeting with Orbán, who they knew had sway over Trump and would turn him against Ukraine.
Trump has been parroting the Kremlin's line on Ukraine since the very beginning.
Throughout the 2016 campaign, and while in office, Trump repeatedly pushed Putin's narrative about Russia's invasion of Crimea, suggesting the peninsula was part of Russia and questioning the international community's punishments.
In the fall of 2017, shortly before a meeting with then-President of Ukraine Petro Poroshenko, Trump reportedly told Kurt Volker, the U.S. special envoy to Ukraine, that Ukraine "wasn't a 'real country,' that it had always been a part of Russia, and that it was 'totally corrupt.'"
According to one former official, Trump also sided with Putin over the entire Cabinet on the issue of sending military aid to Ukraine, saying it "wasn't worth pissing off Russia and what a bad country Ukraine was."
Trump has been unwavering in his pro-Russia approach from the day he declared his candidacy in June 2015. The Ukraine scandal is no exception. Trump appears to have seized on a Russian conspiracy theory to defend himself and attack his opponents, just like he's done over and over during his presidency. This time, however, Trump withheld vital military aid from Ukraine in the middle of an active war with Russia for personal political benefit. Once again, all roads lead to Russia.