Trump Directed Both the Quid Pro Quo and the Cover-Up. We've Entered a New Phase In Impeachment.
---
Trump's allies in Congress are lashing out against the impeachment process, and it's easy to see why: The Trump administration's top diplomat in Ukraine, acting U.S. Ambassador to Ukraine Bill Taylor, brought the impeachment investigation to a new phase in his congressional deposition.
Taylor confirmed that President Donald Trump personally directed the effort to coerce the Ukrainian government into aiding his reelection campaign, withholding both a White House meeting and military aid from Ukrainian President Volodymyr Zelensky. What's more, Taylor detailed wide-ranging attempts to keep such efforts hidden, including shutting out the administration officials actually tasked with managing Ukrainian affairs.
Trump's messengers expected Ukraine to pay to play.
According to Taylor, as early as June, U.S. Ambassador to the European Union Gordon Sondland and former U.S. special envoy to Ukraine Kurt Volker explicitly said they expected President Zelensky to cooperate with Trump's demands if he wanted a face-to-face meeting with Trump.


By September, Sondland was perfectly clear: "Everything"—a face-to-face meeting and military assistance—depended on Zelensky publicly announcing an investigation into Trump's opponents. Trump specifically wanted to box Zelensky into the arrangement.

Trump himself directed the extortion scheme.
During his opening statement, Taylor outlined the chain of command to withhold military assistance, coming all the way from the president.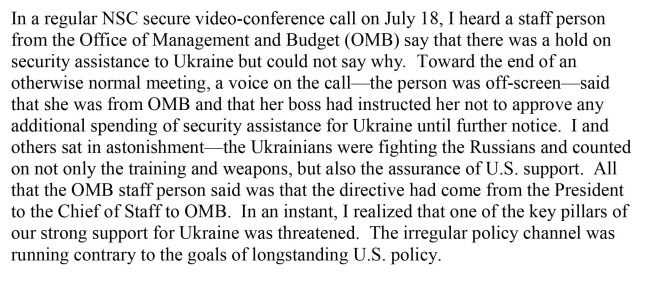 According to Taylor, Sondland stressed that the directive was coming straight from the top: Far from denying the quid pro quo, he cited it as just another example of Trump approaching the presidency as a "businessman" and demanding Ukraine "pay up before signing the check."

There was no policy rationale for the decision that the White House was pushing.
According to Taylor, at least three government agencies with authority over the aid concluded that the government should release the assistance.


Ukraine understood the arrangement.
According to Taylor, even before Trump's July 25 call with Zelensky, Ukrainian officials were concerned that Ukraine was being "used as a pawn in a U.S. re-election campaign."

The Associated Press has also reported that as early as May, before Zelensky was even inaugurated, he was "already worried about pressure from the U.S. president to investigate his Democratic rival Joe Biden."
In the July 25 call, Zelensky indicated to Trump that he was willing to cooperate on creating an investigation into the Bidens. He then specifically raised the prospect of arranging the long-agreed-to meeting with Trump.

By late August, a Ukrainian official was in touch with Taylor about the White House withholding military assistance:

In fact, according to The New York Times, Pentagon officials told the Ukrainian government that aid was being withheld as early as "the first week in August"—mere days after Trump's call with Zelensky. They also said that top Ukrainian officials should talk to Mick Mulvaney, director of the Office of Management and Budget and acting White House chief of staff, to clear things up.
There was a cover-up.
From the moment Taylor arrived in June, there were "two channels of U.S. policy-making and implementation, one regular and one highly irregular": the actual U.S. national security apparatus and the Rudy Giuliani-led side channel.

According to Taylor, the decision to work through Giuliani's side channel was an explicit effort to "make sure no one was transcribing or monitoring" the shakedown of Ukraine.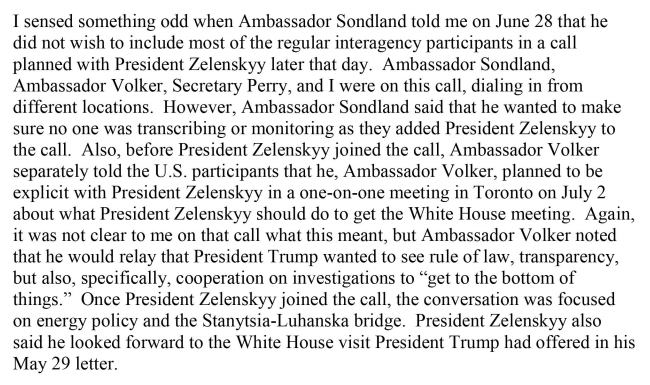 The Trump administration was so intent on hiding records of the July 25 call that it even hid them from Taylor, even though he not only was the administration's top representative in Ukraine but also was scheduled to meet with Zelensky the next day.

Taylor's testimony shows the depths of Trump's corrupt behavior toward Ukraine. His exhaustive account details a clear effort, directed by the president, to extort a foreign government into helping his presidential campaign—and a clear effort to hide the administration's tracks from the American public.