Hope Hicks Reveals A Blackmail Attempt
---
Hope Hicks spent most of her closed-door testimony before the House Judiciary Committee stonewalling, refusing to answer 155 questions about her time in the White House. But what she did say included a potential bombshell that deserves further investigation, and that shows why Mueller's report is far from the final word on the Russia investigation.
According to Hicks, Jared Kushner received an email in October 2016 from somebody claiming to be Guccifer 2.0, the persona Russian hackers used to disseminate information stolen from Trump's political opponents. The sender demanded information on Trump's finances and threatened to blackmail Trump. Kushner immediately showed the email to Secret Service agents traveling with the Trump team.
Here's the full excerpt, from page 90 of the official transcript: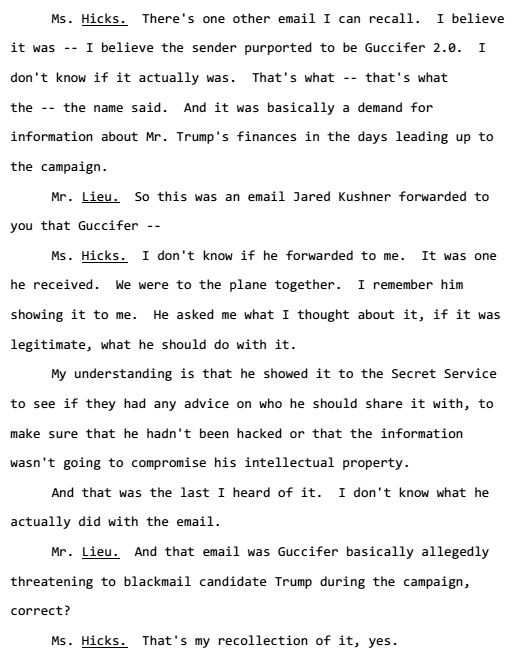 An effort to blackmail a presidential candidate is a huge deal, especially when it purports to come from a military intelligence unit of a hostile foreign power. So why wasn't the threat described anywhere in the Mueller report?
It may have been covered in the counterintelligence component of Mueller's investigation—which, according to House Intelligence Chairman Adam Schiff, Congress still hasn't been briefed on, despite repeated requests that the agencies are obligated to fulfill.
It may be under redaction—which just emphasizes the importance of Congress seeing the full report as soon as possible so they can fulfill their constitutional oversight duties.
Or it may be that, for reasons unknown to the general public, Special Counsel Robert Mueller simply didn't investigate the incident.
There's one way to find out: Mueller needs to testify. Congress and the American people need to know whether the president is compromised by a hostile foreign power.